This archive contains all of my Sims 1 creations from 2001 to 2005. During that time I was probably best-known for my window and door sets, crazy walls, painting bases, and skylight innovations, although several of my houses won awards as well. The compressed archive contains 117mb of files, and includes over 1000 objects; over 1000 walls, floors, and roofs; and 20 unique housing lots, with screenshots and shopping lists included whenever possible. The current archive (mid-2009) also contains many old gift and contest items which were not previously made available on the Juniper Sun site. To my knowledge, this is my complete archive, minus one single painting from 2001 that was lost years ago. All of these Sims 1 downloads are posted as-is, sans support. Enjoy! :)
DOWNLOAD SIMS 1 ARCHIVE PART ONE & PART TWO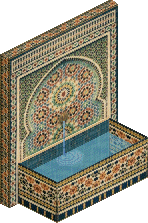 Jawa Barat Bungalow – The last Sims 1 house I ever built, actually created after Sims 2 launched.
Texas Oasis – Based on an amazing house and plan found in a magazine.
Monsun House – This house won numerous awards in its day, including two reader's choice awards from N99.
Goth Loft – Built for the Goth family; not actually a goth house!
Miscellaneous Lots – Collages of Crome Yellow, Fuchsia's Retreat, Island in the Sun, Madelon's Chalet, Orange Sorbet, Pool Party, and Shadows & Sky.